Stay Home, Stay Safe: See COVID-19 Updates for Asheville & Western North Carolina
Note: *For the health and safety of our Western North Carolina & world community, Navitat – Adventures and Zip Line Canopy Tours – is currently closed, with potential re-opening on May 1st. Be sure and visit the website (click here) for updates on openings during this unprecedented time.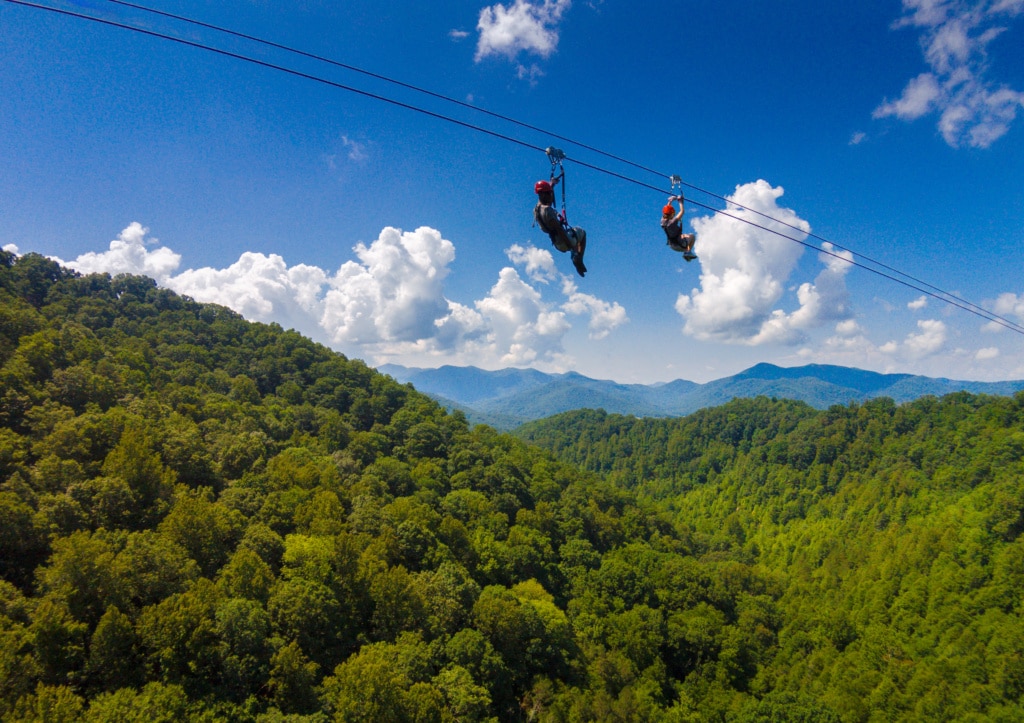 Enjoy the Mountains of Western North Carolina from the perspective of not just any Zipline – but the Navitat Ziplines with Treetop Tour, Mountain Top Tour and RTV Tours. USA Today called Navitat "…one of the best in the nation" and Navitat has received 5 star reviews in TripAdvisor. For your future plans to visit Asheville and the Mountains of Western North Carolina, Navitat Canopy Tours provides an amazing adventure in a beautiful and natural setting – in the Blue Ridge Mountains.
Amazing Treetop Tour & Mountaintop Tour:
The Treetop Tour is the original tour for Navitat. This tour is a wonderful half-day adventure and will take approximately 3 hours. The Treetop Tour has ten elements, composed of six amazing zip-lines, two sky bridges with spiral staircase and a rappel that takes you down to the forest floor. Additionally, there are three scenic trails to explore. You will find yourself zipping – at times over two-hundred feet off the ground on a variety of Zipline lengths up to 1,250 feet long – for a zipline adventure that will take your breath away – all in the unparalleled scenery in the mountains of North Carolina have to offer.
Mountain Top Tour: Zip along huge side-by-side ziplines at exhilarating speeds up to 65 miles per hour, yes 65mph!! Enjoy three huge ziplines, longer, higher, faster, up to 3,600 feet long, along with four scenic trails to explore – all in a spectacular setting.
Navitat's Zipline Tours have gained national recognition as one of the finest canopy tours, making this a truly special event for your Vacation In Asheville!
Guided RTV Excursions:
If the Zipline Tours aren't exactly your thing, Navitat has more to offer! Perhaps you are a younger member in your group or you prefer taking in the mountains closer to the ground. Navitat has something for everyone in your group and if that's the case, hop onto a state-of-the-art, Kuboto all-terrain vehicle with your family members and/or friends. Ride on an all-terrain vehicle up to Moody Cove and enjoy incredible mountain views and a custom tour that will last about an hour to an hour and a half. Enjoy your personal Navitat Guide and Adventure Driver. Learn about the natural history and culture of the region. Take in the scenery and perhaps view some of the wildlife, flora and fauna found in the beautiful Blue Ridge and Appalachian Mountains.
How to book a Zipline or RTV tour:
While walk-ins are welcome, Navitat recommends reserving in advance. The Reservations office is open everyday, 8am to 6pm. Call 855.927.0307 to book your reservation today (or visit the website and book online! Be sure and review special discounts and rates that may be available. Navitat is located at 242 Poverty Branch Rd, Barnardsville, NC 28709