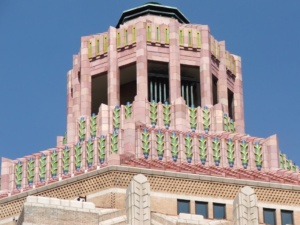 Pack Square Park in the heart of Downtown Asheville will be a wonderful place to spend the 4
th
of July – a free event, all afternoon and through the evening (2pm – 10pm) with food, festivities, activities for kids, live music and more with a grand finale of fireworks at 9:30 pm.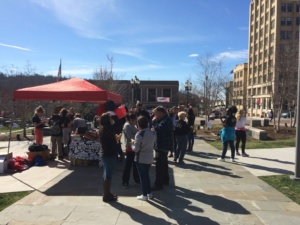 For the family, LEAF Easel Rider will be providing children's activities including bouncy rides – open and available for kids from 2-6 pm.

Wrist bands cost $3.00 and are good for all rides and activities for as many times as your child might wish to bounce.

Splasheville will be open till 6:00 pm – always a free and fun option on a hot summer day in the park!!

Hula Hoops will also be available to enjoy on the Roger McGuire Green area of the park, from 2-4 pm, hosted by Asheville Hoops.
While dogs are otherwise NOT permitted, Ultimate Air Dogs will have com
petitions taking place on the hour at 2:00 pm, 4:00 pm, 6:00 pm and lastly at 7:30 pm for the grand finale!!
This is always a treat to watch.
Registered dogs are permitted in the Ultimate Air Dogs show area.
For registration and doggy particulars be sure and visit the Ultimate Air Dogs website at
www.ultimateairdogs.com
.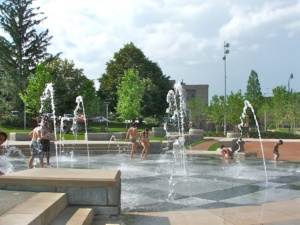 Live music & entertainment begin at 5:00 pm at the Park Stage, featuring Grammy award winner, fiddler and local talent, Mark O'Connor and the O'Connor Band.

Other opening acts include Savannah Smith & Southern Soul and The Greenliners.

Local, Kat Williams, will sing the National Anthem to kick off the fireworks show that again start at 9:30 pm on the fourth.
Food and Beverage vendors will have food, beer, cider, soft drinks, BBQ and other foods available for purchase.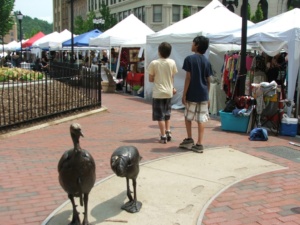 For lodging information, stay with us at Oakland Cottage B&B, just 2 miles south of Pack Square Park and The Roger McGuire Green, 828 994-2627 reservations and information about Oakland Cottage.