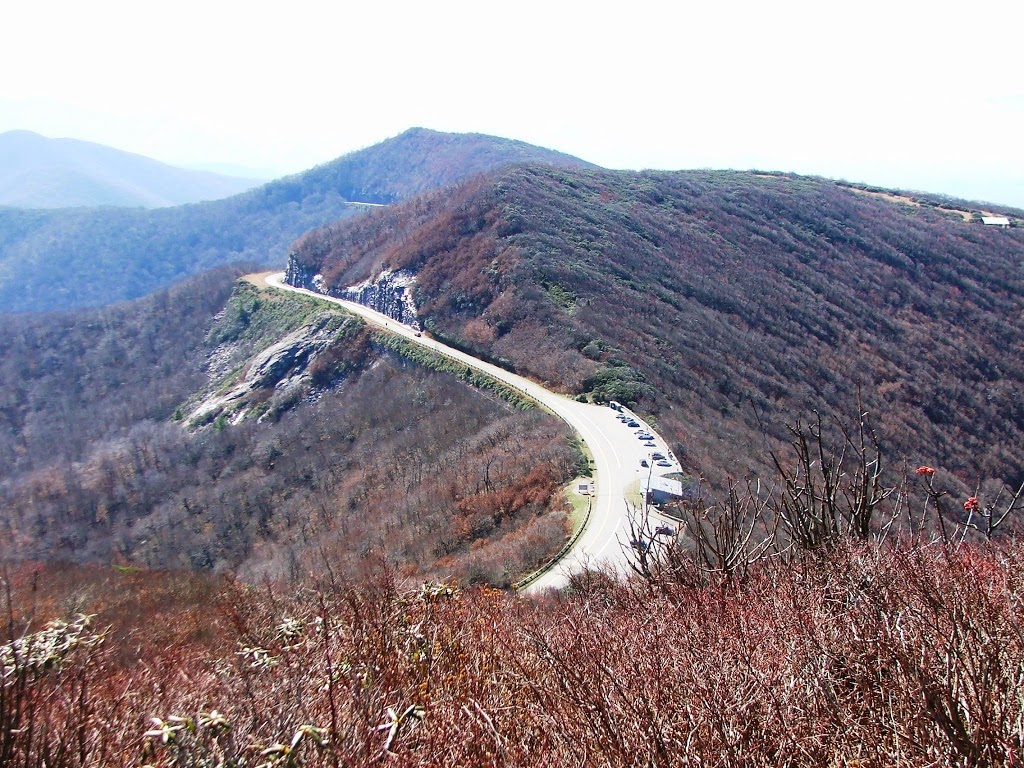 Atop Craggy Pinnacle, looking down upon Craggy Visitor Center
If you are looking for day trips along the Blue Ridge Parkway from Asheville, NC, there is a beautiful 60 mile segment from Mount Mitchell, the highest elevation east of the Mississippi River at 6,683′ (2037m) above sea level (about 30 miles north of Asheville NC) to Mount Pisgah at 5722′ above sealevel (about 30 miles south of Asheville along the Blue Ridge Parkway). There is a lot to do along this 60 mile section, which I call the "extended Asheville corridor" of the Blue Ridge Parkway, as it meanders from Mile Post Marker (MPM) 355 to MPM 409, about 30 north of Asheville to about 30 miles south of Asheville.
The Asheville "commuter section" is right in the middle of this extended corridor from approximately MPM 377 at Craven's Gap and Town Mountain Road access, to MPM 393 at the North Carolina Arboretum and Brevard Road access. The commuter section rarely if ever closes, but gates will close the Parkway on both ends of this Asheville, Blue Ridge Parkway commuter section.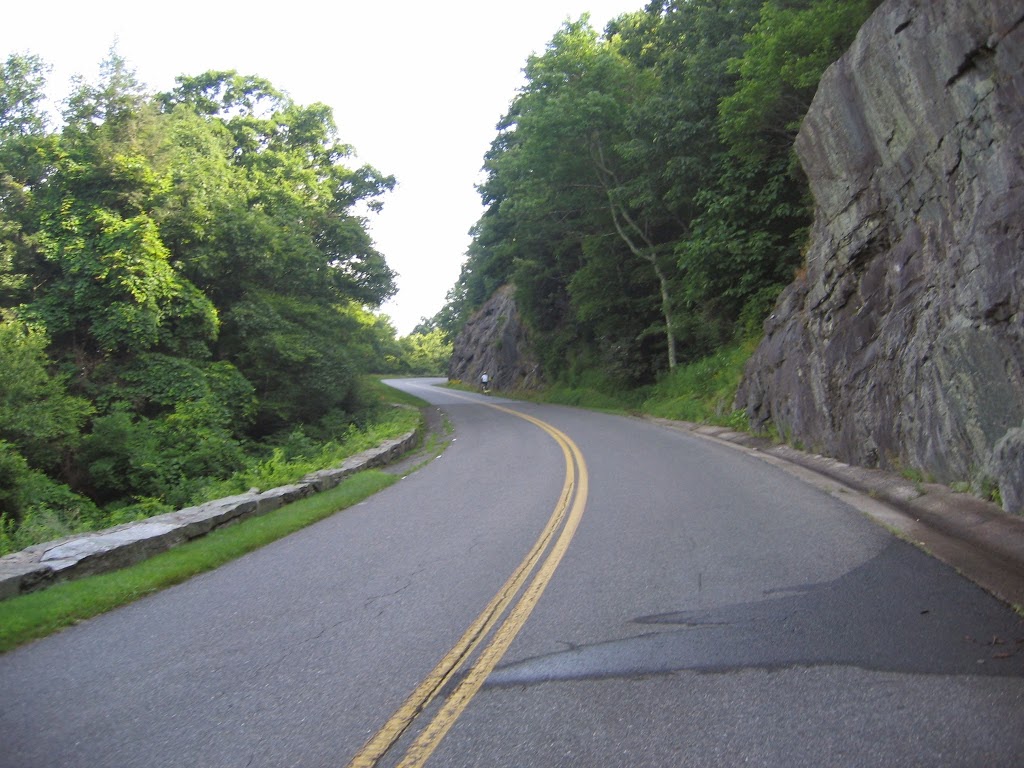 If your not familiar with the Blue Ridge Parkway, know that it is not a toll interstate that you might find in other states – roads that are also called "parkways." No, the Blue Ridge Parkway is a National Park and National Scenic Highway that is extremely rural, slow going and beautiful as it winds over the ridges across the back of the Blue Ridge, Appalachian and Smoky Mountains (all the same southern mountain range with different regional monikers). It is completely free, i.e., no National Park tolls anywhere, no Eagle Pass needed, with limited access at various points, towns and cities along the 400 mile stretch; and it is the most visited National Park in the USA, with is northern terminus in Front Royal, Virginia and the southern terminus is in Cherokee, North Carolina, after over 400 miles of rolling ridge climbs and descents.
A few bits of information to help you enjoy and find your way along the Blue Ridge Parkway: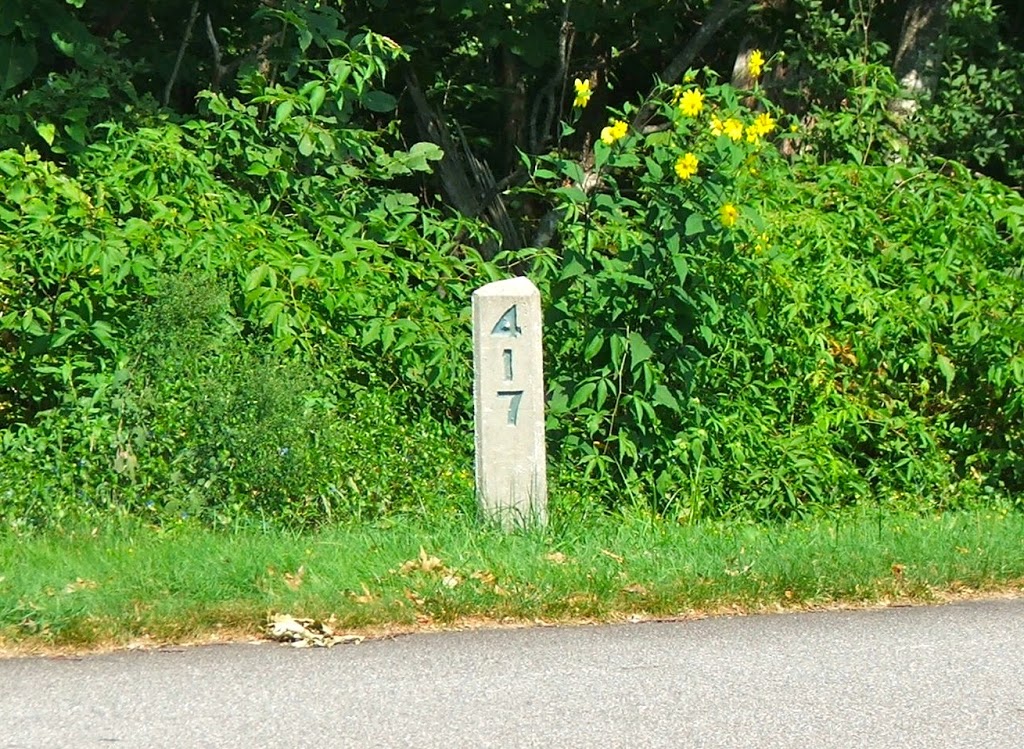 Mile Post Marker
There is a small mile marker (post) every single mile along the Parkway (MPM), with numbers increasing as you drive south. If you are cycling, you might just find this irritating as you slowly climb one of the many long ascents, praying for the next mile marker to pass you by. Otherwise, the mile markers are extremely helpful in finding and keeping your way, looking for trailheads, specific attractions and or specific access/ exit points along the Blue Ridge Parkway.
There is limited access at various points and cities along the route and there are frequent road closures due to rock fall and inclement weather, particularly in winter months; be sure and check for road closures (click here) as you plan your trip along the Parkway and know where you would like to enter the parkway and where you might want to exit the parkway, as closures will indeed impact your available choices.
Stores, fuel stops, restaurants, restroom facilities and lodging options are also limited and advertising is prohibited for driving aesthetics, so plan ahead and be sure and fill up your gas tank before getting on the Blue Ridge Parkway.
Speed limits are restricted to 35 mph and 45 mph, depending on where you are along the Parkway, so besides the fact that you will likely want to pull off at one of the many scenic overlooks, take a long or short hike at one of the many trail heads, know that automobile travel is much slower than one might expect. A 30 mile drive could easily take one to two hours.
The "commuter section" of Asheville, from MPM 377 at Craven's Gap and Town Mountain Road to MPM 393 at the NC Arboretum is open year round and gates at these two MPM will close northern travel and southern travel much of the winter.
Weekends in peak seasons (summer and October) the traffic can be especially slow and may even be bumper to bumper. Weekdays are always much less crowded.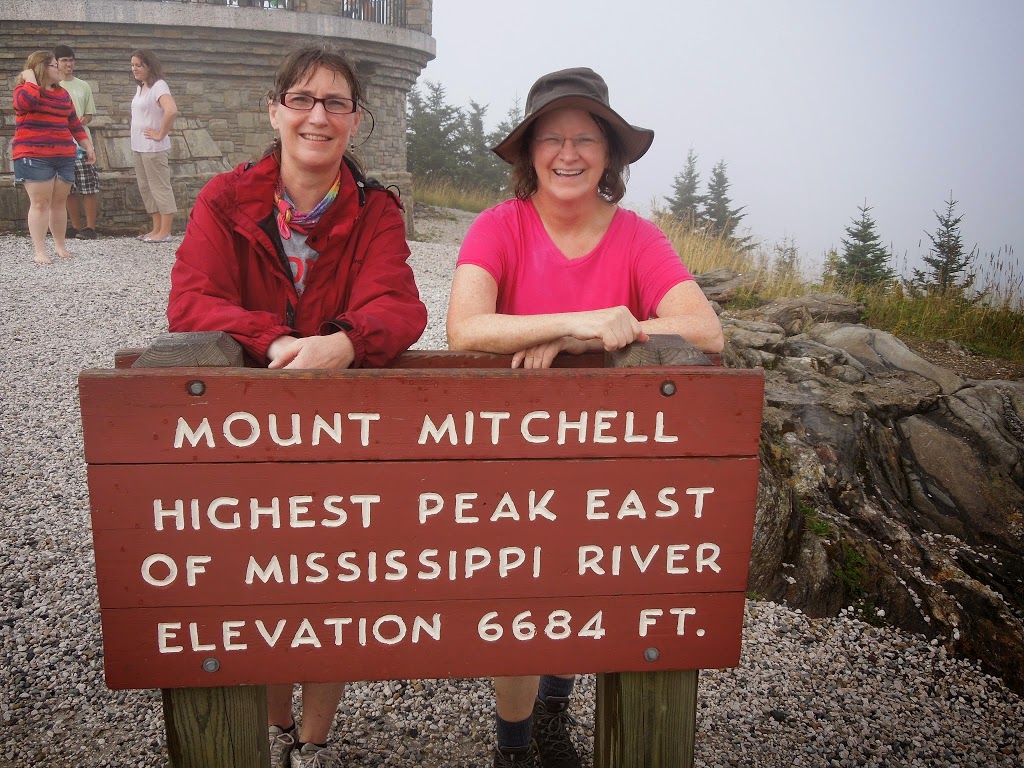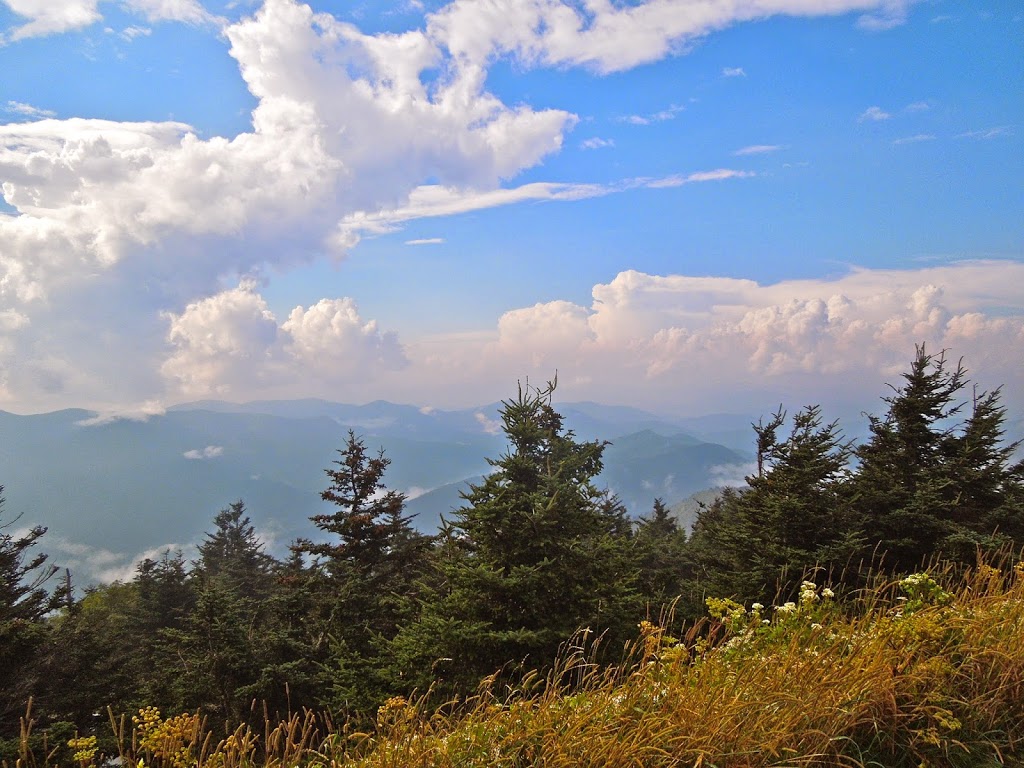 Some of my favorite stops along the "Asheville Expanded Corridor" (my term) begin for me at MPM 355 and the entrance to
Mount Mitchell State Park
, about 35 miles north of Asheville and a wonderful day trip excursion from Asheville. Once at the entrance to Mount Mitchell State Park, there is another 5 mile spur road that will take you almost to the top of Mount Mitchell. The spur road is entirely paved and there is ample parking at the top. There is a small concessions building with snacks available and a restroom. Once up top, a quick, short and paved walk will take you to a scenic overlook structure with amazing views, especially looking northward towards Table Rock and the Linville Gorge. Believe it or not, the elevation here can mean a big difference in weather. It is often foggy and quite chilly, even in summer months, so be sure and bring a jacket, no matter the season. In past years, the Blue Ridge Parkway, along the Asheville and southern side of the Mitchell entrance, has been under repair and often closed, so again, be sure and know if Mount Mitchell State Park is easily accessible and from what access point.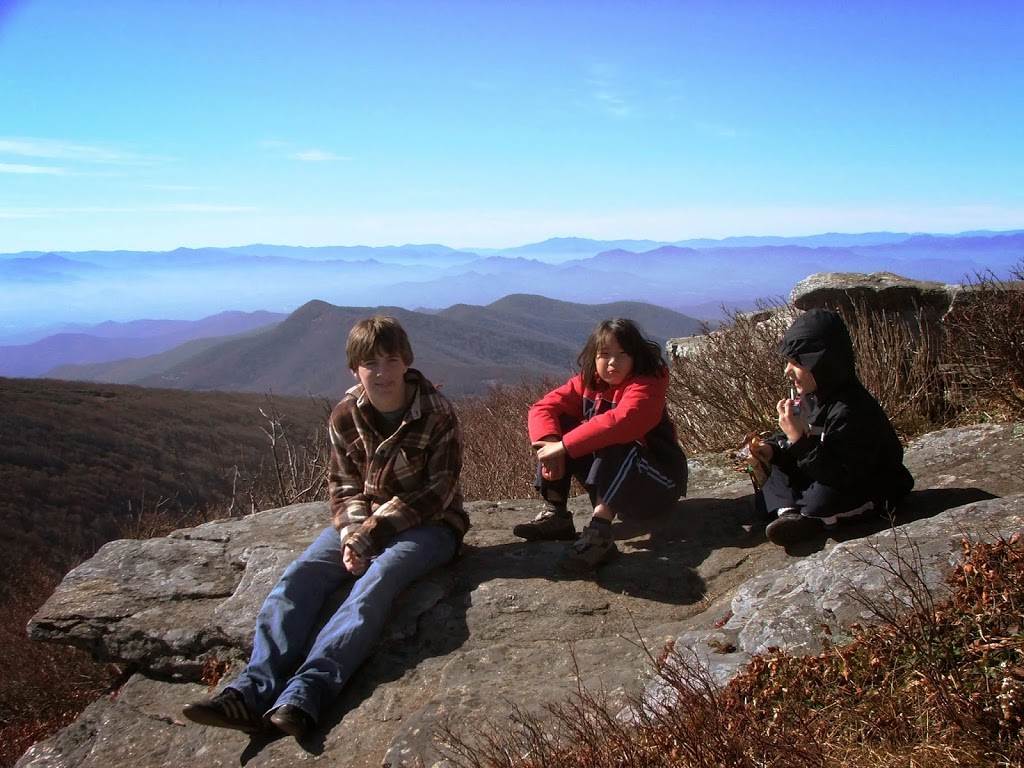 On top of Craggy Pinnacle – what views!
Craggy Gardens Visitor Center
is located at MPM 364. A not to miss hike is just north of the Visitor Center, a short trail about 1/2 mile in length will take you to Craggy Pinnacle – my favorite hike perhaps along the entire Parkway, beginning in a scrubby Mountain Laurel "tunnel," and opening up onto a rock bluff with incredible, incredible views of Western NC. Parking for this hike is just north of a tunnel. The Craggy Visitor Center is on the south side of same tunnel. Restrooms and souvenirs are available at this quaint and historic rock structure, also with fabulous views as it sits on an exposed gap.
The Folk Art Center
is right in Asheville at MPM 382 and easy access off of NC Hwy 70. There is an auditorium at the Folk Art Center, gift shop and gallery. Local and high quality arts and crafts works are displayed and sold at the Folk Art Center. Classes and speakers as well as onsite demonstrations by local artists are often featured, so be sure and find out about what is going on at the Folk Art Center before you visit – and know that the crafts for sale and on display are always worth viewing and purchasing! The White Dot Trail or Mountains-to-Sea trail, goes right by the Folk Art Center and traverses along this section of the Blue Ridge Parkway.
The Visitor's Center
is at MPM 384 just 2 miles south of the Folk Art Center. Wonderful and abundant information is available here, as well as an award winning 20 minute film about the Blue Ridge Parkway and a large scale interactive map along one of the walls within the Visitor Center. Ranger programs are often available from here, especially in summer months and often on Thursdays. Restrooms are available at the Visitor Center.
The North Carolina Arboretum
may be accessed directly from the Parkway at MPM 393. This is a beautiful facility that is a true treasure of North Carolina. Enjoy gardens, trails, special classes, demonstrations and exhibits year round. There are classrooms, restrooms and a cafe at the North Carolina Arboretum. Bent Creek Experimental Forest borders the Arboretum and is also a wonderful area to explore with connecting trails, a small lake with a swimming beach (life guard onsite in summer) and fantastic mountain biking. The Arboretum is a fee area if parking onsite ($8.00 per car) and if you drive into Bent Creek to the swimming beach at Lake Powatan, there is a $3.00 car fee.
During much of the winter, from early November to mid-April, the gate at MPM 393 will be closed prohibiting motor travel south to the Mount Pisgah area; Pisgah Inn, the concessions store and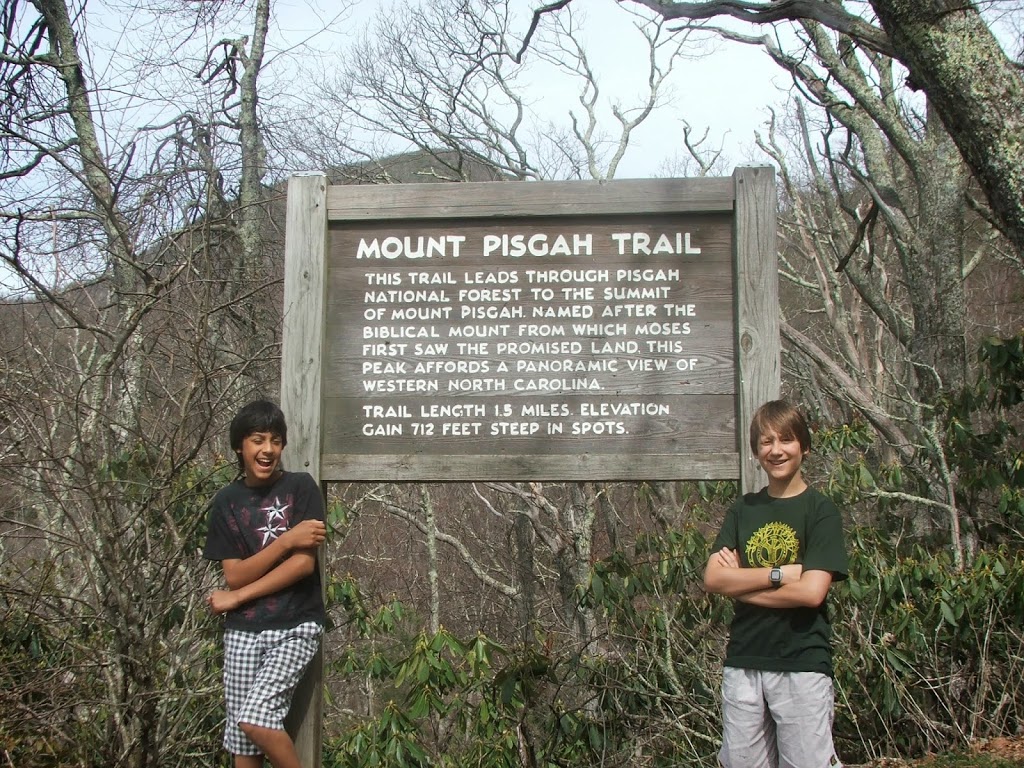 campground will be closed as well.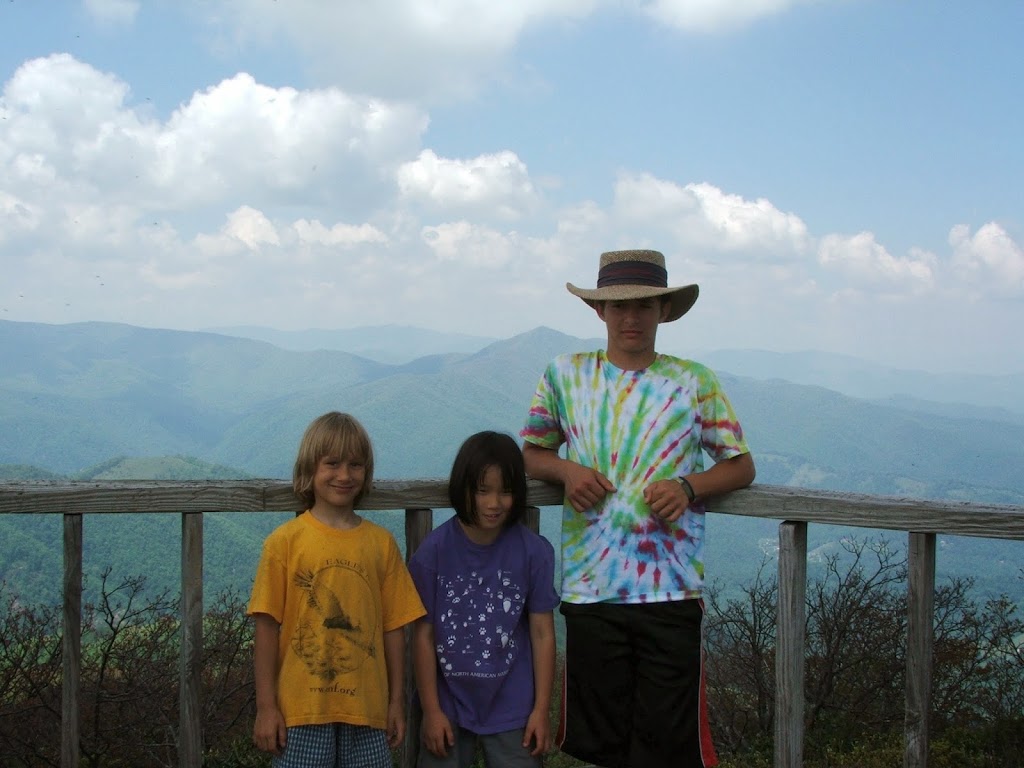 Atop Mount Pisgah – more great views!
Continuing south to MPM 408 will bring you to the Mount Pisgah area along the Blue Ridge Parkway and
Pisgah Inn
. There are 11 tunnels along this stretch as you climb out and up from the French Broad River Valley in which Asheville lies. The Hike to the top of Mount Pisgah is another favorite of mine, about a 1.5 mile hike up hill, with a spectacular view. Bring your blueberry picking buckets in late summer months of July and August. The Pisgah Inn is just a mile or so from the Pisgah trail head and picnic area, one of the four Park sponsored Concessions you will find along the entire 400 plus miles of the Blue Ridge Parkway. Enjoy a small gift shop, inn and restaurant. Fresh trout is one of my favorite lunches or dinners to order. Large glass windows will offer the diner spectacular views of Looking Glass Rock and the Mountains.
Lots to do on this 60 mile stretch of the Parkway, making Asheville a wonderful home base from which to explore the Parkway. And if you need convenient Blue Ridge Parkway lodging, call Vacation In Asheville and Oakland Cottage Bed and Breakfast, 9am too 7pm daily for various vacation rentals or an Asheville Bed and Breakfast lodging option; all are within easy access to the Blue Ridge Parkway, 828 994 2627. And staff at our offices are always happy to share information about Asheville and the Blue Ridge Parkway as we know it!!