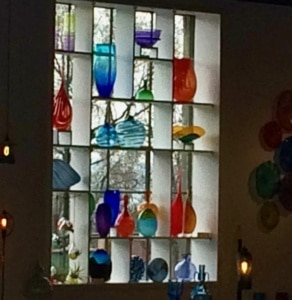 First Friday Art Walks in Downtown Asheville Art District (DAAD) & Lexington Glassworks. 2017 –
Just three left this year!
Visit the Downtown Asheville Art District (DAAD)
through the First Friday Art Walks on the first Friday of each month, this year, 2017, with just three left to attend – on the Fridays of
October 6, November 3rdand December 1st

.

Don't miss this delightful way to tour and view the fine arts and crafts traditions of Western North Carolina!

The First Friday Art Walks are from five to eight pm. featuring over twenty-five locations that include galleries, studios and museums.

The galleries, studios and museums featured on the walk are all within a half mile radius of historic downtown Asheville; admission to each varies and is on a

"Pay-as-you-wish" basis.
Stops along this
self-guided tour
include museums (including the
Asheville Art Museum
), studios and galleries; and during the First Friday Art Walks, partake in special events, including exhibition openings, guest artists to observe and meet, live music, refreshments and more.

What a great way to view and see Asheville's vibrant downtown and Asheville's downtown art scene. Find wonderful & special gifts to purchase!

Printed

brochures to participating sites may be found at all member galleries, various locations around town as well as the Asheville Visitors Center.
For a complete listing of participating studios, galleries and museums, and
for a map of the walk and locations of the the various galleries and stops
click here to view a brochure
.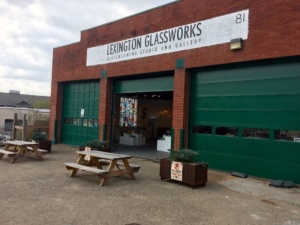 As a part of the 1st Friday Art Walk events, be sure and visit
Lexington Glassworks Studio (click here)
, glassblowing gallery and working studio.

View the fascniating art of glassblowing first-hand, listen to bluegrass music and perhaps drink a local craft beer in a hand-blown glass at the taproom here.

Look for the big green garage doors (often wide open) at 82 South Lexington Avenue, Asheville, NC (828 348-8427).

Besides these special events each 1st Friday between four and eight pm, Lexington Glassworks is also open to the public 6 days a week, Monday – Saturday, 10am – 6pm, Sunday 11am – 6pm.
Along your art stroll you will also pass by many of Asheville's amazing restaurants and breweries.

Be sure and stop for an appetizer, meal and/or beverage before, during or after your inspiring walk.

If you are looking for a place to stay, check out Oakland Cottage Bed and Breakfast, 828 994-2627 (reservations and information), located within a mile of Asheville's historic downtown district.