Parking in Asheville and other Transportation Information
On-Street Parking: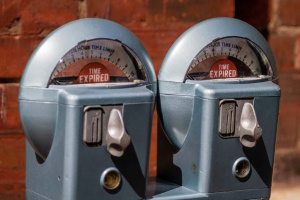 Metered Spaces: All meters are for short term parking (two hours or less) at a cost of $1.25 per hour. Currently all meters accept COINS ONLY, so bring your change! The metered spaces are enforced from 8 a.m. to 6 p.m., Monday through Saturday.
Parking is FREE after 6:00 pm, Sundays and City holidays. City holidays include New Year's Day, Martin Luther King, Jr. Day, Good Friday, Memorial Day, Fourth of July, Labor Day, Thanksgiving Day, Friday after Thanksgiving, and Christmas (3 days). There is no need to "feed the meters" on these days. However, regulations for Handicapped Parking and Loading Zones are still enforced.
On-street parking on the fringes of and outside the central part of historic Downtown Asheville is generally free where signage and marked spots indicate acceptable onstreet parking places. This includes the River Arts District, West Asheville and Biltmore Village areas of town where onstreet parking is generally free.

Parking Garages in Historic Downtown Asheville Area: Parking garages are operated for longer-duration parking as well as for monthly parking for downtown residents and employees.
Civic Center Garage
Wall Street Garage
Rankin Avenue Garage
Biltmore Avenue Garage
First hour is free, $1.00 each additional hour or fraction thereof. (Daily maximum: $10)
After hours rate is $2.00 per exit
Special Events: $7, $5.00 multi events
There are several private parking garages. They are typically more expensive (typically $5.00 to $10 per visit, no matter the length of stay).
Other Miscellaneous Transportation Information
Taxi Service:
A Red Cab Company – (828) 232-1112
Metro Cab – (828) 254-1155
Yellow Cab Company – (828) 253-3311
Your Cab – (828) 259-9904
Electric Car Chargers may be found in and around Asheville: There are now several Car Charging Stations in and around Asheville: There is a station at the Public Works Parking area on 163 Charlotte Street. The station features three electric vehicle chargers that will be free to the public. During the day, the solar array on the roof will generate power that will be fed onto the electric grid. This is a fairly convenient location to park in the evening to "charge up" while you entertain in downtown Asheville. Other stations are also available, but not well advertised yet.
City Transportation (Bus System): ART: Asheville Rapid Transit to me, but it's actually Asheville Redefines Transit. There's Asheville for you. Asheville does have a fairly comprehensive public bus system for those adventurers who might be interested in exploring this option. Cost is $1.00 a ride including transfers, $.50/ride for youth to the age of 19 and seniors over the age of 65. Children 5 and younger are free with an adult. The main station is located on Coxe Avenue, next to the Post Office (all routes end and begin here). For additional information and schedules, please call 828-253-5691. Look for the ART signs that designate the Bus Stop Locations.
There are two bus stops on Oakland Road a block or less from Oakland Cottage Bed and Breakfast. Look for the Bus "S-4." It stops at 40 after the hour between 7:40 am and 7:40 pm daily, Monday through Saturday and arrives at the Coxe Avenue Downtown Bus Station at 52 after the hour between 7:52 am and 7:52 pm daily, Monday through Saturday. S-4 Leaves the downtown Station at 39 after the hour between 7:29 am and 7:29 pm daily.

Many of the City buses have bike racks.